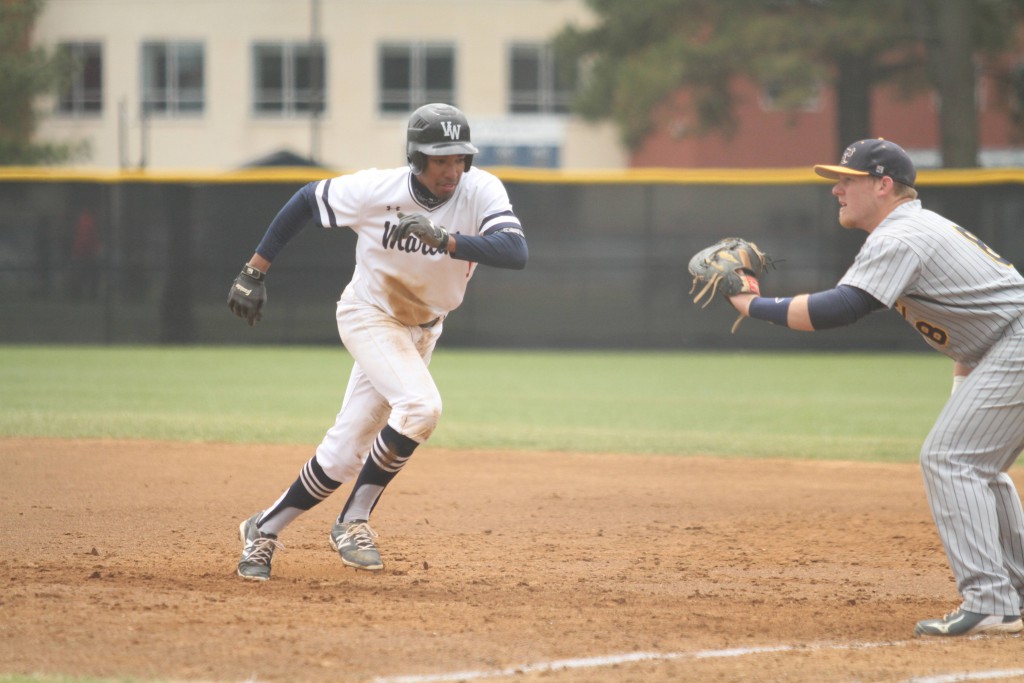 By Jamie Crawley
With spring right around the corner, one thing is also certain: baseball season has arrived.  Here at Virginia Wesleyan College, the Marlins baseball team looks to build off last season's Old Dominion Athletic Conference (ODAC) championship appearance. Last year proved to be a renaissance for the program under new head coach Christian Francis. After consecutive losing seasons dating back to 2011, the Marlins finished with a chance at the ODAC title and with a record eight players named All-ODAC honorees. With the new season ahead, the Marlins look to continue upon the success they garnered last season.
"Our major goal is to win ODACs and progress even further than that to the World Series in Wisconsin," junior outfielder Taylor Erby said. "We're also trying to stay consistent and stay motivated throughout the season," Erby said.
Winning the ODAC championship seems to be the echoing sentiment for many of the players and coaches; however the road to the crown will be tough. The Marlins are facing one of the toughest schedules in the nation.
"I think our kids are excited about the challenge. When you go to places like Virginia Wesleyan, you look to play the best competition and best programs. Our guys are excited for that challenge. They are excited to compete at that level, and I feel like our program and ball club is getting to that level," head coach Christian Francis said.
Virginia Wesleyan will fight challenging battles this season with 19 of the Marlins' 38 contests coming against ranked opponents. Among those opponents include NCAA tournament qualifiers such as Millsaps College and Piedmont College. The Marlins will also play a home-and-home against Methodist University, another team that qualified for the end of the year tournament.
"I think this is what energizes our guys. Seeing a schedule like that and to go, 'This is what I am preparing for,'" Francis said. "But I truly do think the schedule is what's going to get our guys ready for battle," Francis said.
The Marlins will return a multitude of players as well as add some new additions this season.
"I expect us to have a great team, we basically have everyone coming back," freshman outfielder David Kennedy said. The Marlins will have a large number of returning players. Of the eight ODAC honorees the team boasted a year ago, five of them will be coming back,  including ODAC Pitcher of the Year Sean Greiser. Players such as C.J. Lindsay, Matt Murray, Justin Erby and Taylor Erby will also play pivotal roles in the team's success moving forward.
"My goal is to do better than last year, honestly, but also be a leader on and off the field.  I want to try to set an example so when I leave the young guys take over and do it the right way after we leave," junior outfielder/pitcher Taylor Erby said.
Coach Francis is extremely optimistic about this squad. "I said this to our guys last year at the end of the year after we lost the conference finals, and it's even more true today.  This is the most fun and exciting group I ever had the chance to spend time with and work with," Francis said. "We had seven transfers mid-year last year and we had four more this year, and those guys seemed to gel and it's a very cohesive group. So, we are excited about playing together and being together for the next few months," Francis said.
When discussing the expectations for the team this year, Coach Francis said getting better each day is the main key. "We sincerely mean this. The expectation is for our kids and our program to get better each and every day. It sounds cliché but really the way we stay grounded and humble is just play every day hard and compete and give 100% of whatever percent you have on that day to give," Francis said. "The expectations with our guys have never changed. Just enjoy going to the ballpark every day and play as hard as you possibly can that day," he said.
With the 2016 campaign set to start, the players said they look forward to enjoying a successful season. With a tough schedule ahead them, this baseball season could prove to be an exciting one for the Marlins.